We've created an area of the website to allow other hams to post their news directly to this website. Check out our new News Blog and let us know what you think!
We want to invite all of the Ham Clubs post their own upcoming meetings and event news.

Blog authors wanted. Contact us via email if you want permission to post your own ham related news stories on the Blog.
---
2020 Public Service Events:
Hill Country REACT Team coordinates or assists in aproximately 18 public service events each calendar year. Here are a few of the events on the 2020 calendar between March and July. Contact info@hillcountryreact.org for more details.
March 14, 2020 – Crop Walk at Canyon Lake Dam - Participants walk from the church at the base of the dam, up the entrance to the south observation park, across the dam to the north end and reverse. Ham operators are stationed at the north, south end and a few other points to assist with the participants in case help is required and to restrict vehicle traffic onto the dam itself.
April 4, 2020 – SAG Training for the Big Texas BikeMS Ride (former BPMS150) in San Marcos.
April 18, 2020 – Canyon Lake Chamber of Commerce BBQ - North side of Canyon Lake, Joint Base Recreational Area. Volunteers help supervise parking volunteers and restrict vehicle access into the event area. REACT's golf cart will be used.
April 19, 2020 – Fiesta Wildflower Bicycle Ride – Rolling Oaks Mall Start/Finish. Hams needed for Break Point communications (5-6 positions), turtle sweep (2 positions) and Net Control operators (2-3 positions). Event requires operators to be in position prior to 6am and some Break Points on the longer routes may be open until 4pm.

May 2nd 2020 – Bulverde Run for the Hills – 10k Run from the Bulverde Community Center on Cougar Bend. Schedule conflict this year with the BikeMS ride. Need to see if those members / ham volunteers not working the Big Texas BikeMS Ride can help with the event, or we will have to cancel our participation for 2020.

May 2-3rd 2020 – Big Texas BikeMS MS150 (formerly BPMS150). Starts in Austin and Houston. Charlie Land KC5NKK is on the Austin Planning committee meeting. They will still have 3 starts in Houston. Bryce & Nellie will be doing "turtle duty" from Austin. SAG drivers will pick up their vehicles on Friday (May 1st) and return them no later than Monday (May 4th). Fuel and hotel rooms paid for by the National MS Society. Hams needed as drivers for Box Trucks, SAG Vans, and Break Point Hams. Coordination of volunteers is by the Houston committee, but Charlie Land KC5NKK can get any new volunteers in touch with the committee.

June 27-28. ARRL Field Day. Multiple clubs in the San Antonio area will be participating. More details will be published closer to the date.

July 4th. Canyon Lake 4th of July Parade - Startzville. REACT Members will coordinate the staging area for this annual parade. Meet up at Startz Cafe by 7am for breakfast and assignments. Duties include helping parade entries find their proper slot in the lineup and ensuring participant safety, which includes keeping traffic flowing one direction from the back of the staging area to the front with the help of Comal County Sheriff deputies. Parade starts at 11am. Volunteers have the option to drive their vehicle in the parade at the end, in front of the police vehicles. We usually meet up afterwards at a local restaurant for lunch (dutch treat).
---
What is the purpose of the SanAntonioHams.org web site?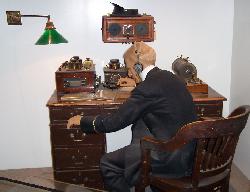 San Antonio Hams is the only local ham web site that collects and distributes information about all of the local San Antonio and South Central Ham Radio Operations, Clubs, Groups and Organizations in one convenient place. Photo taken at the Smithsonian Institute Museum in Washington DC showing a vintage CW / Telegraph Operator at his station. Photo by Lee N5NTG
It is our hope and intention to increase awareness of, and participation by, the local Amateur Radio community. We always strive to keep updated on what's happening in this area so that you don't have to search dozens of web sites and hang out on multiple radio nets all over the radio frequencies and calendar. We have listings for over 20 local groups / clubs that have some connection to Ham Radio, plus links to regional and governmental agencies of interest.

More info here …
---
The Illustrated Bike Tour Survival Guide for Hams

We've released the 2008 edition of the "how to" guide (version 1.4) for Hams working large events like large scale Bike Tours. This 17 page, 1.9mb PDF document covers almost all aspects of positions that ham radio operators are likely to be asked to handle. Click Here to download this free document now.
Want help with setting up temp wiring for your radios in a SAG Van, click here to download a special report on that topic. (257kb, in Adobe PDF format)
We're currently working on developing a VERSION 2 of this document, thanks to all the feedback received so far. If you read these documents and have corrections or suggestions for changes / additions, please do not hesitate to send those comments to us. Contact us via email by clicking here.