We've created an area of the website to allow other hams to post their news directly to this website. Check out our new News Blog and let us know what you think!
We want to invite all of the Ham Clubs post their own upcoming meetings and event news.

Blog authors wanted. Contact us via email if you want permission to post your own ham related news stories on the Blog.
---
2020 Public Service Events:
Hill Country REACT Team coordinates or assists in aproximately 18 public service events each calendar year. Here are a few of the events on the remaining 2020 - 2021 calendar. Contact info@hillcountryreact.org for more details.
December 12, 2020 - Christmas Parade in Sattler, Texas (Canyon Lake) - CANCELED FOR 2021 DUE TO COVID-19
January 9-10th 2021– Bandera 100k Tejas Trail Run - Participants register for either the 100k on Saturday, or the 50k / 25k courses on Sunday. . Ham operators are stationed at 6 check points inside the Hill Country State Natural Area Park (Near Bandera, Texas). This is a 24 hour plus event, starting before sunrise on Saturday and finishing Sunday morning. Hill Country REACT Team has been the coordinator of this event for 15+ years. WinLink Digital Packet stations are used to relay bib numbers from the check points back to net control, suplimented by UHF voice communications (Ham). For more details, contact info@HillCountryREACT.org
January 9th, 2021 - Radio Fiesta in Schertz - CANCELED FOR 2021 DUE TO COVID-19
January 17th, 2021 - Big Bend 50 Trail Run - CANCELED FOR 2021 DUE TO COVID-19
May 1, 2021 - BikeMS MS160 Houston - We'll post more information as soon as it gets released, but so far we know this annual event will be a 1 day event with 3 starting points, all ending at Kyle Field in Bryan-College Station. Hams are needed to drive SAG vans, staff break points and provide other communications. Contact info@SanAntonioHams.org for more details and to be put in contact with the organizers.
---
What is the purpose of the SanAntonioHams.org web site?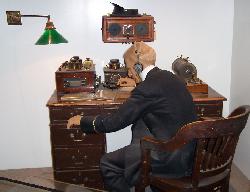 San Antonio Hams is the only local ham web site that collects and distributes information about all of the local San Antonio and South Central Ham Radio Operations, Clubs, Groups and Organizations in one convenient place. Photo taken at the Smithsonian Institute Museum in Washington DC showing a vintage CW / Telegraph Operator at his station. Photo by Lee N5NTG
It is our hope and intention to increase awareness of, and participation by, the local Amateur Radio community. We always strive to keep updated on what's happening in this area so that you don't have to search dozens of web sites and hang out on multiple radio nets all over the radio frequencies and calendar. We have listings for over 20 local groups / clubs that have some connection to Ham Radio, plus links to regional and governmental agencies of interest.

More info here …
---
The Illustrated Bike Tour Survival Guide for Hams

We've released the 2008 edition of the "how to" guide (version 1.4) for Hams working large events like large scale Bike Tours. This 17 page, 1.9mb PDF document covers almost all aspects of positions that ham radio operators are likely to be asked to handle. Click Here to download this free document now.
Want help with setting up temp wiring for your radios in a SAG Van, click here to download a special report on that topic. (257kb, in Adobe PDF format)
We're currently working on developing a VERSION 2 of this document, thanks to all the feedback received so far. If you read these documents and have corrections or suggestions for changes / additions, please do not hesitate to send those comments to us. Contact us via email by clicking here.